This page is a stub. It will be expanded to a full-fledged article.
Arsaces II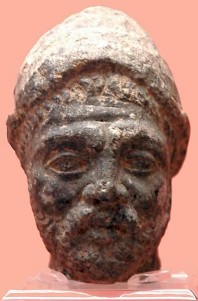 After Arsaces and his brother Tiridates had settled the Parni in Parthia, the first-mentioned had been recognized as king, his residence being in Hecatompylos. His successor was his son Artabanus, who accepted Arsaces II as throne name.
Arsaces I and Tiridates had been successful because the Seleucid Empire, to which Parthia belonged, had been threatened by the Third Syrian (or Laodicean) and Fourth Syrian Wars. After the end of the latter, Seleucid king Antiochus III the Great decided to recover the eastern territories that had been lost. In 209, he reconquered Parthia, which was soon followed by Bactria and Gandara. The king was from now on called Megas, "the great".
Arsaces II had been reduced to some kind of feudatory status. However, towards the end of his reign, his Seleucid sovereign was defeated by the Romans (Syrian War, 192-188), and there was a new chance to regain independence. In 185, Arsaces II was succeeded by Arsaces III Phriapatius, who may or may not have been a grandson of Tiridates.
Note
The chronology of the Arsacid kings of the Parthian Empire is less well-understood than, for example, the sequence of Seleucid and Ptolemaic kings or the emperors of Rome. This information is based on the researches by G.R.F. Assar, as published in "Iran under the Arsakids, 247 BC – AD 224/227" in: Numismatic Art of Persia (2011).