This page is a stub. It will be expanded to a full-fledged article.
Arsaces III Phriapatius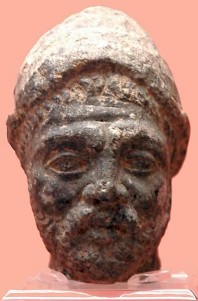 In the third quarter of the third century BCE, Arsaces I had settled the Parni in the Seleucid satrapy of Parthia and had been recognized as king. His son and successor Arsaces II had been forced by the Seleucid king Antiochus III the Great to recognize the Seleucids again as overlords (209 BCE). However, Antiochus defeat against the Romans in the Syrian War (192-188) offered the Parni a new chance to regain independence.
In 185 BCE, Arsaces II was succeeded by Phriapatius, who may or may not have been a grandson of Tiridates, a brother of Arsaces I. Phriapatius was to rule under the name of Arsaces. We can imagine that he carefully worked to improve his position, benefiting from the fact that the Seleucids had to pay lots of money to the Romans and were unable to hire mercenaries. We can also imagine that other local rulers, like those in Bactria, did the same. Little is known about this, but in the end, the situation in the eastern satrapies attracted the attention of Seleucid king Antiochus IV Epiphanes. When he marched east, Phriapatius was already dead (170 BCE).
He was succeeded by Arsaces IV, a son of Arsaces III (r.170-168), and by his own sons Phraates I (r.168-165) and Mithradates I the Great (r.165-132), who greatly expanded the power of the Arsacid dynasty and can be considered the true founder of the Parthian Empire.
Note
The chronology of the Arsacid kings of the Parthian Empire is less well-understood than, for example, the sequence of Seleucid and Ptolemaic kings or the emperors of Rome. This information is based on the researches by G.R.F. Assar, as published in "Iran under the Arsakids, 247 BC – AD 224/227" in: Numismatic Art of Persia (2011).