This page is a stub. It will be expanded to a full-fledged article.
Arsaces V, Phraates I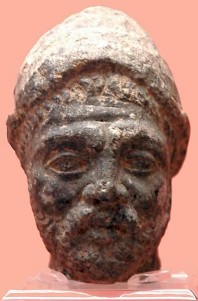 After the establishment of Parnian rule in the former Seleucid satrapy of Parthia by Arsaces I (r.247-211) and Arsaces II (r.211-185), the Parni may have shaken off the Seleucid yoke under their third king, Arsaces III Phriapatius, who belonged to a different branch of the Arsacid dynasty. After a reign from 185 to 170 BCE, he was succeeded by Arsaces IV, who appears to have been the son of Arsaces II of the original branch.
After a short reign, from 170 to 168, Arsaces IV was succeeded by Phraates I, a son of Phriapatius. His reign was just as short as that of his predecessor: in 165, he was succeeded by his brother Mithradates I the Great (r.165-132).
The reigns of Phriapatius, Arsaces IV, and Phraates are too poorly documented to state anything with certainty, but it is likely that they benefitted from the problems in the Seleucid Empire that had been caused by the defeat of Antiochus III the Great against the Romans in the Syrian War (192-188). Something similar happened in Bactria and an attempt to restore order in the east by Antiochus IV Epiphanes was only partially successful because this king died in 164 BCE and Seleucid power started to desintegrate.
Parnian power was growing and after 140 BCE, king Mithradates would conquer Media, Babylonia, Elam, and Persis, becoming the real founder of the Parthian Empire.
Note
The chronology of the Arsacid kings of the Parthian Empire is less well-understood than, for example, the sequence of Seleucid and Ptolemaic kings or the emperors of Rome. This information is based on the researches by G.R.F. Assar, as published in "Iran under the Arsakids, 247 BC – AD 224/227" in: Numismatic Art of Persia (2011).