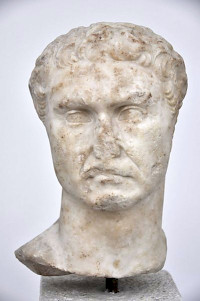 Mark Antony
83 BCE: Birth, son of Marcus Antonius and Julia
78-73 BCE: Father Marcus Antonius, praetor, sent out against the Cilician Pirates
72 Death of Marcus Antonius
71 Julia remarries with Publius Cornelius Lentulus Sura; Mark Antony is raised in his house
57 Aulus Gabinius, governor of Syria, employs Mark Antony
57-56 Operations in Judaea
55 Mark Antony in Egypt
54 Mark Antony in Gaul, takes part in Julius Caesar's campaigns against Eburones
51 Mark Antony's first independent legionary command
50 Mark Antony augur
49 Mark Antony tribune; he flees from Rome and offers Caesar an excuse to attack the Senate; Caesar conquers Italy
49/48 Caesar moves to Dyrrhachium
48 Mark Antony reinforces Caesar at Dyrrhachium; battle of Pharsalus
47 War in Alexandria: Caesar restores Cleopatra VII to the throne; Caesar made dictator, Mark Antony master of horse; Mark Antony in Italy
45 Mark Antony elected consul for the year 44
February 44: Lupercalia incident
March 44: Julius Caesar is killed (text); Cleopatra and Ptolemy XIV, who had been in Rome, return to Egypt, where Ptolemy is soon killed and Caesarion recognized as king
Late in 44: Octavian in Rome; anti-Antonine sentiments; the consuls Hirtius and Pansa sent out against Mark Antony in northern Italy
Early 43: War of Mutina - the Senate's troops defeat Mark Antony but the consuls are dead; Octavian attacks Rome and is made consul
Late 43: The Second Triumvirate (Marc Antony, Octavian, Lepidus) declares war against the assassins of Caesar, led by Brutus and Cassius
42: Battle of Philippi: the triumvirs defeat Brutus and Cassius; Octavian will control Italy and Mark Antony will visit the east
41: Cleopatra meets Mark Antony in Tarsus. The Roman needs the Egyptian queen in his war against the Parthian Empire, and returns some old Ptolemaic territories to her; beginning of their affair
40: War of Perugia: Mark Antony's brother against Octavian, who is victorious
40: The Parthian king Pacorus invades Syria
40: Birth of the twins Alexander Helius and Cleopatra Selene
Late 40: Renewed alliance between Mark Antony and Octavian; Mark Antony marries Octavia
39/38: Ventidius drives back Pacorus
38: Mark Antony reorganizes the east and gives Chalkis (the Bekaa valley) and parts of Cilicia to Cleopatra; later, she is allowed to govern, as vassal, parts of Phoenicia, Judaea (cordial relations with king Herod), Cyrenaica, and Crete
37: Renewed alliance with Octavian
37: Mark Antony and his wife Octavia are separated; he renews his affair with Cleopatra
36: Mark Antony's Parthian War: he invades Media
34: Mark Antony invades Armenia and takes its king Artavasdes II captive; triumph; Cleopatra is called "new Isis" and "queen of kings"
33: Mark Antony prepares a new attack on Parthia but moves to the west; preparation of war with Octavian
32: Mark Antony divorces his wive Octavia; outbreak of war between Octavian and Mark Antony
31: Mark Antony and Cleopatra move to Greece, where they are isolated by Octavian's admiral Agrippa; although they are able to win a tactical victory and break out of their isolated position at Actium, the campaign is a distaster and Octavian is able to achieve control of the east
Cleopatra flees to Alexandria and opens negotiations with Octavian; her purpose is to save her children and keep the Ptolemaic kingdom intact; Artavasdes II is executed
12 August 30: After Octavian has declined to negotiate, Cleopatra reportedly commits suicide; Marc Antony does the same. Their children survive, but Caesarion is killed.