This page is a stub. It will be expanded to a full-fledged article.
Phraataces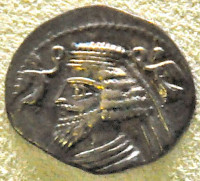 Shortly after the Parthian king Phraates IV had appointed his son Phraates (nicknamed Phraataces, "little Phraates") as successor, Phraates IV was killed (2 BCE). A war with Rome was in the air because in Armenia, the pro-Parthian king Tigranes IV had come to power, but the Roman emperor Augustus sent his grandson and intended successor Gaius Caesar to the east for negotiations.note[Cassius Dio, Roman History 55.10a.4.] (Among the officers that escorted the him were Sulpicius Quirinius, the historian Velleius Paterculus, Marcus Lollius, and Seianus, the future praetorian prefect.) In 1 CE, the Roman prince and the new Parthian king met on an island in the Euphrates. Velleius Paterculus wrote:
It was my fortunate lot to see this spectacle of the Roman army arrayed on one side, the Parthian on the other [...] - truly a notable and a memorable sight. First the Parthian dined with Gaius upon the Roman bank, and later Gaius supped with the king on the soil of the enemy.note[Velleius Paterculus, Roman History 2.101.2-4.]
Soon after, the Parthians rose against Phraataces, who was killed. The next king was Orodes III.
Note
The chronology of the Arsacid kings of the Parthian Empire is less well-understood than, for example, the sequence of Seleucid and Ptolemaic kings or the emperors of Rome. This information is based on the researches by G.R.F. Assar, as published in "Iran under the Arsakids, 247 BC – AD 224/227" in: Numismatic Art of Persia (2011).