Golyamata Kosmatka: place in Bulgaria where Seuthes III, king of the Thracian Odryssae (r.331-c.300 BCE), was buried.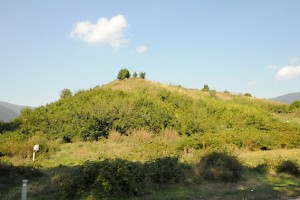 With a height of some twenty meters and a diameter of ninety meters, the funeral mound of Golyamata Kosmatka is among the largest Thracian funerary monuments. It is situated south of modern Shipka in the Tundzha Valley, which modern archaeologists have called the "Valley of Thracian Kings". Many Odrysian nobles, who must have resided in nearby Seuthopolis, were buried over here.
The monument at Golyamata Kosmatka was probably erected in the first half of the fifth century BCE and contained a passageway, a circular room (tholos), and a small chamber with a bed. The walls of these three rooms were made of granite blocks. This structure may have served as sanctuary and was used for Orphic rites.
Towards the end of the fourth century BCE, it was completely renovated. A new façade was added and the small chamber was converted to tomb, which was closed with a two-folding door of marble, decorated with portraits of a Gorgo and the sun god Helios.
Discovered in 2004, the tomb yielded some splendid finds. In the funerary chamber, there was a full panoply, consisting of a bronze Chalcidian helmet, remains of a leather breastplate, bronze greaves, two swords of iron, and some ten spear points. Elsewhere in the same room, the excavators found two iron strigils, wine cups of gold and silver, a pair of scissors, a silver and two alabaster jugs, a jewelry box, three amphoras from Thasos, and two bronze vessels for libations. On the bed in the funerary chamber, a golden wreath oak was found. All over the place were golden threads, which may or may not have belonged to a carpet. In the corridor, the archaeologists found the remains of a horse.
The inscriptions ΣΕΥΘΟΥ on the helmet and some of the silver suggests that the tomb was used for the remains of the Odrysian king Seuthes III (r.331-c.300), and this is confirmed by coins of this leader and his contemporary Cassander. Another indication was a splendid bronze portrait bust, carefully placed some seven meters in front of the façade, of a bearded man with a remarkable aquiline nose, which looks like the man on the coins of Seuthes III.