Baalbek or Heliopolis (Greek: Ἡλιούπολις, "sun city"): town in the northern Bekaa valley, site of the largest sanctuary in the Roman world.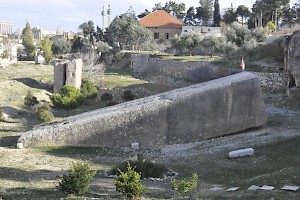 There are two quarries near Baalbek, to the south and to the west of the ancient city. In the latter, which was used by the builders of the Temple of Jupiter, lies a monolith that, with a length of twenty meters and a height of 4½ meters, must be one of the largest stones ever cut out by men. (The unfinished obelisk attributed to Hatshepsut, which is 42 m long and 2.5-4.4 m wide, seems to be holding the record.) The monolith in Baalbek is locally known as the Hajar al-Hibla, the "pregnant stone".
In 2014, archaeologists inspecting the site discovered the small, straight edge of another monolith. Joking that "the pregnant stone has delivered!", they started to investigate it and soon discovered a "baby stone" that is probably even bigger than its mother. The new monolith is 5 meters wide and its length is still unknown.
There are several rock tombs near the quarry.