Baalbek or Heliopolis (Greek: Ἡλιούπολις, "sun city"): town in the northern Bekaa valley, site of the largest sanctuary in the Roman world.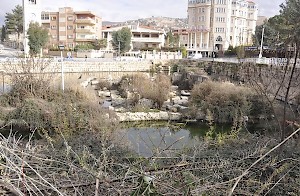 At some eight hundred meters southeast from the temples of Jupiter, Bacchus, Venus, and the Muses, is the spring called Ras al-Ain ("head of the source"). The town owes its name to this place: Ba'al Nebeq or Baalbek means "Lord of the sources".
Near the shallow pool once stood a nymphaeum, a temple, and a small building with columns. The water of this source was used in the above-mentioned temples, and also refreshed the town of Baalbek. Today, there's a mosque.