Baalbek or Heliopolis (Greek: Ἡλιούπολις, "sun city"): town in the northern Bekaa valley, site of the largest sanctuary in the Roman world.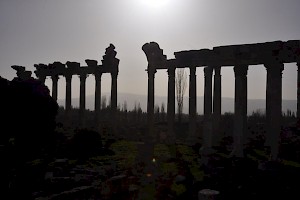 Among the monumental buildings of Baalbek is Bustan al-Khan ("the khan's garden"), a place more or less south of the temple of Jupiter in Baalbek, is a portico with twelve columns, which may have been the south gate to the main sanctuary. To judge from the way the capitals were shaped, it was constructed in the second century.
The two main buildings are a hall on a terrace in the southern area and a Roman bathhouse, inspired on the baths of Trajan in Rome. Archaeologists have also the colonnade that belonged to the street to the Temples of Venus and the Muses, which must have been one of the main routes through the center of Baalbek.
There are several tombstones next to the Bustan al-Khan. On the opposite side of the modern parking place, the remains of the ancient theater are still visible near the Palmyra Hotel.