Myra: town in Lycia, modern Demre. It is best known because it was the residence of Nicholas of Myra but it also has a nice theater.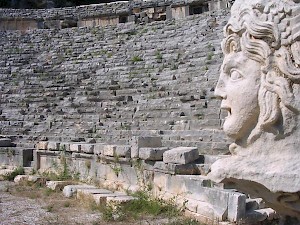 The theater of Myra is one of the few surviving archaeological remains of the ancient city. Situated at the feet of several much older rock tombs, it was built in the first quarter of the third century CE, but almost certainly replaces an older, Hellenistic theater.
Myra's theater is remarkably well-preserved and is, in its present form, about 111 meters wide. The orchestra is 30 meters in diameter. The seats could accomodate some 12,000 people.