Aornus (Old Indian Āvárana, "hiding place"): giant fortress near the Indus, captured by Alexander the Great.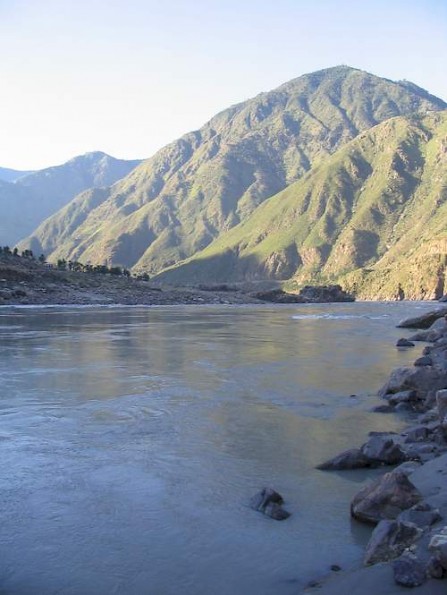 After conquering the valleys of the Kunar and Swat, Alexander the Great crossed to the river Indus, probably through the Shang-La pass. He wanted to capture the last stand of the native population in this part of India, Aornus (Āvárana, "hiding place").
Since Sir Aurel Stein investigated the region, the mountain Pir-Sar is usually taken to be identical to the Aornus. A local myth told that a god, probably Krishna, had been unable to capture this rock, which is 1500 meters high; this was enough to make Alexander decide that he had to capture it. His general Craterus was made responsible for the supply, and Ptolemy was ordered to occupy the western summit.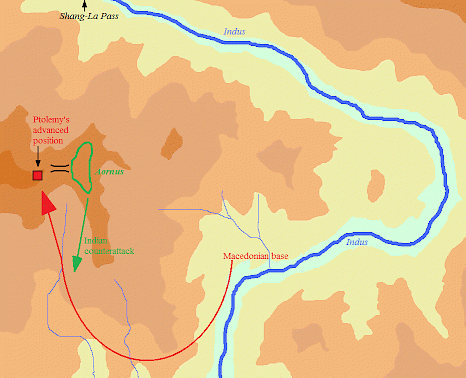 The Indians were on the eastern summit, and bravely attacked the Macedonian main force when it tried to join Ptolemy's advance guard. After two days of fighting, Alexander's men reached the western summit (in the background of the first picture) and started to build a mole to the eastern summit (to the left on the second photo). According to Arrian of Nicomedia, the construction was finished after a mere four days, and the Indians surrendered before they came to blows.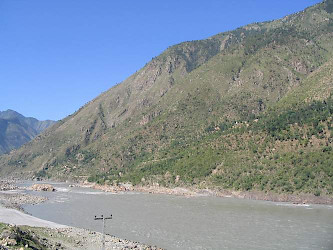 However, during the night, they started to leave the site, probably because they were afraid that they would be killed if they stayed where the were (cf. the siege of Massaga). Alexander took this sign of mistrust for aggression, attacked, and massacred the Indians. He now could boast to have succeeded where Krishna (who was usually identified with Heracles, Alexander's ancestor) had failed.
Literature
Arrian,

Anabasis

, 4.28-30
Aurel Stein, Aurel Stein,

On Alexander's Track to the Indus

(1929, 2003) 95-128