Vaumisa: Persian general, known for an expedition against the Armenians in 521 BCE.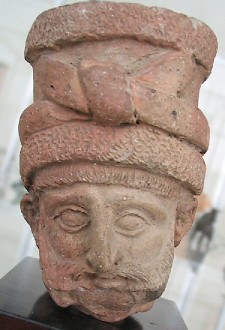 In March 522, a Magian named Gaumâta seized power in the Achaemenid empire, saying that he was the brother of the legitimate king Cambyses. Gaumâta could do this because this brother, Smerdis, had been killed secretly. On hearing this news, Cambyses advanced against the usurper, but he died before he reached Persia; the false Smerdis could continue to rule.
However, Cambyses' relative Darius, together with six Persian noblemen, killed the usurper (29 September). Darius became king but immediately faced a serious crisis: nearly all provinces of the Achaemenid empire revolted. The most important rebellion was that of the Medes, whose leader was king Phraortes. His rebellion spread to the east to Parthia and to the north to Armenia.
This was the military situation when king Darius appointed Vaumisa as commander of one of the two armies that were ordered to suppress the Armenian revolt. The other army was commanded by Dâdarši. The latter moved upstream along the Euphrates and had to secure the roads to Syria and Lydia; Vaumisa advanced along the Greater Zab, to the heart of Armenia.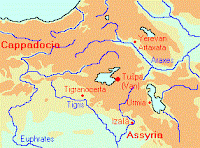 He defeated his enemies at Izala, which may be 80 kilometers north of Arbela (modern Arbil) or directly north of Nisibis, on 31 December 522; more then two thousand Armenians were killed. For the moment, this was sufficient; the Armenians could not descend to Mesopotamia, i.e., the country between the Euphrates and Tigris. After Darius' main force had defeated the Medes and had secured Vaumisa's right wing, he proceeded along the Greater Zab and reached Autiyâra, where he won his second victory (11 June 521). Again, two thousand Armenians were killed, and fifteen hundred taken prisoner. Nine days later, Dâdarshish' army won its third victory, which meant the end of the Armenian rebellion.
The only source that describes the event is the Behistun inscription:
King Darius says: A Persian named Vaumisa, my servant, I sent into Armenia, and I said unto him: 'Go, smite that host which is in revolt, and does not acknowledge me.' Then Vaumisa went forth. When he had come to Armenia, the rebels assembled and advanced against Vaumisa to give him battle. At a place in Assyria called Izalâ they joined battle. Ahuramazda brought me help; by the grace of Ahuramazda did my army utterly overthrow that rebel host. On the fifteenth day of the month Anâmaka the battle was fought by them.

King Darius says: The rebels assembled a second time and advanced against Vaumisa to give him battle. At a place in Armenia called Autiyâra they joined battle. Ahuramazda brought me help; by the grace of Ahuramazda did my army utterly overthrow that rebel host. At the end of the month Thûravâhara the battle was fought by them.

Then Vaumisa waited for me in Armenia, until I came into Armenia.note[DB, 29-30.]