Ain Dara: Late Bronze Age / Early Iron Age sanctuary in Syria.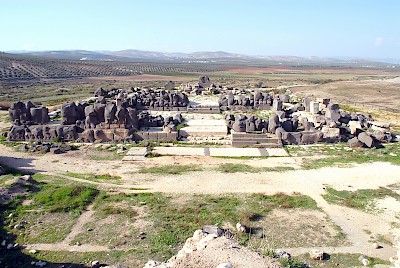 The archaeological site of Ain Dara consists of a Late Bronze Age / Iron Age sanctuary on a hill that rises about twenty-five meters above the plain, where people must have lived as well. Archaeologists have recognized several building phases:
c.900 – c.740 BCE: Early Iron (Neo-Hittite, Aramaean)
c.1000 – c.900 BCE: Early Iron (Neo-Hittite)
c.1300 – c.1000 BCE: Late Bronze / Early Iron (Hittite)
Unoccupied
Chalcolithic
The sanctuary consists of a courtyard and the temple itself, which faced the southeast and measured about 30 x 20 meters. The courtyard was paved with white sandstone; the walls were built on foundations that were decorated with orthostates of black basalt. The entrance to the courtyard, flanked by orthostates of lions and sphinxes, consists of a small flight of stairs. Three prints of giant feet haven interpreted as sign that a deity has entered his or her home, but the First Law of Archaeology applies.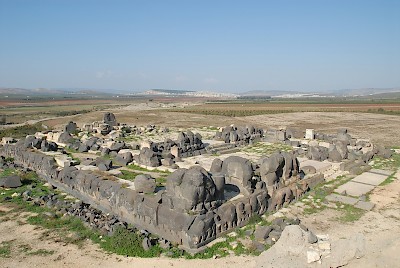 The sanctuary itself, again accessible after climbing a small flight of stairs, is about sixteen meters wide and includes a porch, a "middle room" and an "inner room", which one might – with reference to the temple in Jerusalem – call the Holy Place and the Holy of Holies. Here must have stood the statue of the god, but he or she cannot be identified.
The site was partially destroyed on January 27, 2018, by an airstrike conducted by the Turkish Air Force.