Ephesus (modern Selçuk): ancient Greek town in western Turkey, one of the largest and best excavated cities of the ancient world.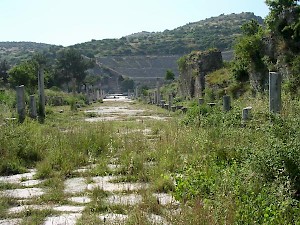 The Arcadian Road in Ephesus was named after the emperor Arcadius (r.395-408). It connected the port to the theater and was impressive entrance to the city.
Along the road are four columns, said to be dedicated to the four evangelists. This is not true, but the identification was not a bad guess, because Ephesus was an important city in the history of Christianity.