Sillyum (Greek Σίλλυον): town in ancient Pamphylia.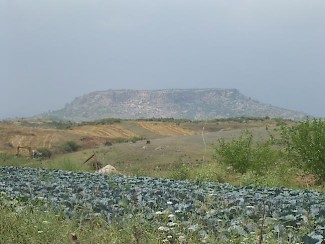 Situated on an inaccessible table mountain that rises 213 meter above sea level, Sillyum was one of the towns of ancient Pamphylia, some ten kilometers northeast of Perge. It was founded - according to legend - during the migrations that followed on the fall of Troy. Some confirmation is offered by the fact that a statue of Mopsus has been found at Sillyum, a man who is mentioned as founder of several Pamphylian towns, and known to have been a historical person.note[A Luwian-Phoenician bilingue from Karatepe mentions one Mpš/Mukšuš as ancestor of an eighth-century king, and he is also mentioned in a thirteenth-century tablet from the Hittite capital Hattusa.]
The city is mentioned for the first time in the Periplus of Pseudo-Scylax (fourth century BCE). On some of its coins, the city is called Selyviys. The inhabitants of the city were called "Sillyeis". Like nearby Termessus, it refused to surrender when Alexander the Great was in the neighborhood (early 333 BCE), and although the conqueror must have contemplated an attack, he must also have realized the enormous cost and effort required to overcome resistance on such an inaccessible place.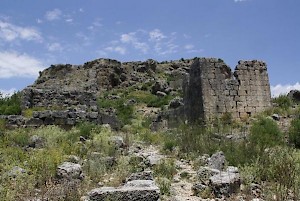 The town, which must essentially have been a place of refuge until then, became more important in the third century. The oldest tombs in the necropolis date back to the third century as well. The horseshoe-shaped gate of the lower city, the theater, a gymnasium, a small temple, and the impressive bastion of the upper city are Hellenistic too.
According to the Peutinger Map, travelers from Perge to Aspendus had to pass along Sillyum, which proves that it was an important town in the age of Augustus (when his right-hand man Agrippa created the map that is the source of the Peutinger Map). Most tombs date to the early Roman period.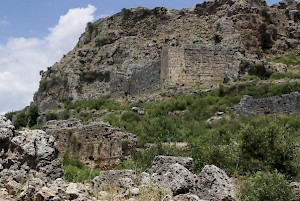 From this age also date the upper tiers of a theater, a temple, and a building with a remarkable inscription in the Pamphylian language. The hippodrome may be younger. From the late Roman age is a building with arched windows in the upper storey.
The most recent burials at the necropolis are from the sixth century CE, suggesting that by then, Sillyum had become a place of refuge again, not being inhabited under normal circumstances. A Byzantine building is the youngest ruin on the table mountain, which was finally evacuated in the Seljuk Age (thirteenth century).
Getting there
The site of Sillyum is well signposted from Main Road 400, which leads from Antalya to Manavgat. Near the city of Serik there is a signposted road going to the left, which leads directly to Sillyum. At the foot of the hill is a small restaurant where you can park your car. A footpath leads directly to the site. The visit is free but you have to be careful.