BCHP 18C Astronomical Diary Concerning Bagayasha and Timotheus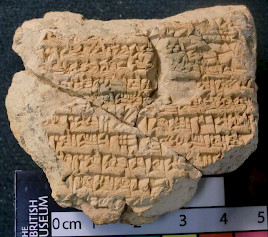 The Astronomical Diary concerning Bagayasha and Timotheus (BCHP 18C) is a Mesopotamian historiographical text written in ancient Babylonia in the Hellenistic Period. The cuneiform tablet (BM 48888 = 81-11-3, 1599) in the British Museum seem to belong to two documents. On this webpage, a new reading is proposed of the second of these, which refers to a satrap named Timotheus who appears to be the son of the rebel Hyspaosines. The other document will be dealt with here.
On this webpage, a new reading is proposed; the official publication will be in I.L. Finkel, R.J. van der Spek, R. Pirngruber, Babylonian Chronographic Texts from the Hellenistic Period (2020; = BCHP; Writings of the Ancient World).
Description of the Tablet
The text offered on this page is a small piece belonging to an astronomical diary, but in view of the script it is certainly not the same diary as BCHP 18B/A. However, as the tablet mentions Bagayasha as a man for whom sacrifices were made for the life of the king and for his life, we must conclude that he was a very important person on equal footing with the king. This fits the Arsacid prince of that name, the future king Bagasis. The text must date to approximately the same period, i.e. 135-132 BC.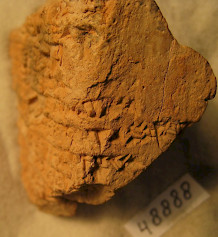 The tablet also mentions a certain Timotheus. We know of a Timotheus, son of Hyspaosines, who probably was satrap of Babylonia in 125 and 124 BC, an oddity as his father Hyspaosines of Charax, king of Mesene, was temporarily king in Babylon in 127, but was driven out. We do not know whether this text is about the same Timotheus, nor do we know whether this Timotheus was already satrap in the 130s BC. In view of all uncertainties we better refrain from drawing too far reaching conclusions.
Of the original tablet part the lower right part of the reverse of the tablet survived. The width of the fragment is 5.5 cm, the height 4.9 cm. The right edge is preserved and for the greater part uninscribed. Lines 6', 7' and 8', however, continue on it (marked by |). The thickness of the right edge is 2.7 cm. The size of the missing part at the left side is hard to establish.
---
Translation
[1'] […. .. .. .. .. .. .. .. .. .. ..] x
[2'] [.... .. .. .. .. .. .. .. ..] on the 2th? it (the river) rose one half cubit,
[3'] [....] /.. .. .. .. .. .. ..\ until the 26th, it receded 8 fingers.
[4'] [.... from Seleucia] which is on the Tigris went out.
[5'] [....] the governor (epistates) of Babylon and the politai
[6'] [.... the dist]rict of Elam and the numerous cities
[7'] [of  .... ] x x x x x x [ente]red.?? The šatammu of Esagila and the Babylonians
[8'] [.... for the life of A]rsaces, the king, and for the life of Bagayasha
[9'] [....letters ....]x were read out loud. Day 8, Timotheus
[10'] [.... entered Babylon .... The šatammu of Esagila and the kin]ištu of Esagila [provided]  one ox and four of[fering sheep in ..... . Offerings to Bel, Beltija, and the great gods]
[11'] [for the life of the king] and for his own wellbeing he (=Timotheus?) performed. [.. .. .. ..]
[12'] [.... ]x /troops\ x x (x) [.. .. .. .. .. ..]
[Remainder lost]