Tyre, Museum Pieces from the Al-Bass Cemetery
Tyre (Phoenician צר, ṣūr, "rock"; Greek Τύρος; Latin Tyrus): port in Phoenicia and one of the main cities in the eastern Mediterranean.
Tyre, Museum Pieces from the Al-Bass Cemetery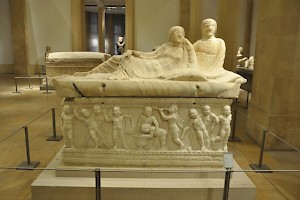 The most beautiful and most important objects from Tyre's Al-Bass Cemetery have been brought to the National Museum in Beirut, where they are curently on display. These include the three sarcophagi on this page.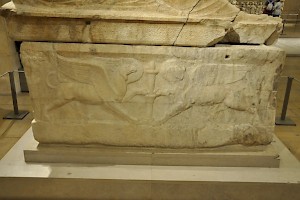 The first of these is the Sarcophagus of the Drunken Cupids, which has been perfectly preserved and - as you can see - still has the statues of the deceased. Drunkenness and extacy were believed to be the gifts of the god Dionysus or Bacchus, and are a common motif in funerary art. The symbolism of the cupids is self-evident when a man and a woman want to be buried together. Other motifs on the sarcophagus are a couple of griffins.
The Achilles Sarcophagus is a beautiful work of art, based on the concluding book of Homer's Iliad. On the front side, we can see the dead body of Hector, which Achilles has dragged behind his chariot, and the ransom that king Priam has brought.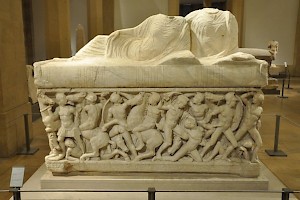 The central figure may be Hermes, who is mentioned in the Iliad as Priam's guide, but was also believed to be the guide of the dead souls, and was a fitting figure on a sarcophagus. On one of the short sides, we see the execution of a Trojan prisoner o war, while on the other side, we see how the Trojan women, having received back the body, wash it.
The third sarcophagus has a fighting scene and is, compared to the two other sarcophagi, a bit disappointing.