Constantinople, Hippodrome, Obelisk of Theodosius
Q763854
Obelisk of Theodosius: obelisk, originally erected for king Thutmose III of Egypt but transferred to Constantinople, where the emperor Theodosius I ordered it to be re-erected in the Hippodrome.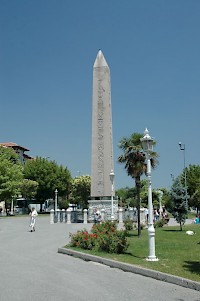 The oldest monument of Constantinople is the obelisk in the Hippodrome, which was erected by the emperor Theodosius I in 390, but is in fact much, much older: it was originally made for Thutmose III, who ruled Egypt from 1479 to 1425. The pink granite stone was, therefore, almost two millennia old already when Theodosius placed it on the spina, the longitudional barrier in the center of the Hippodrome, where it was standing next to the Serpents' Column, right in front of the imperial lodge (kathisma).
The plan to bring this obelisk to Constantinople was not Theodosius's. Constantius II (r.337-361) had already toyed with the idea, and the twenty meter tall monument had already been taken down from its original pedestal in Egypt, but had been left abandoned on one of the banks of the Nile. In a letter to the people of Alexandria, the emperor Julian (r.361-363) ordered them to make sure that the obelisk would still be shipped to Constantinople.note[Julian, Letter 59.] It is possible that the monument was first brought to Athens, was left there when Julian was killed, and was finally brought to its destination in the capital of the eastern half the Roman Empire. By then, a part of the stone was missing: what had been an obelisk of 28 meter tall was by now 19½ long.
A sixth-century chronicler, Marcellinus Comes, states that the monument was erected in 390 CE and this is corroborated by the inscription on the pedestal,note[EDCS-27100012.] which states that it happened when Proclus was praefectus urbi, i.e., between 388 and 392. This date helps us to identify several unnamed people. The "eternal descendants" of Theodosius must be his sons Honorius (six years old) and Arcadius (thirteen years old). In 390, one might reasonably expect that the Theodosian dynasty would be continued. The "subdued tyrants" may refer to Magnus Maximus and his son Flavius Victor, who had been executed in 388.
An interesting aspect of the text is that the word "Proclus" has been erased and restored. In 392, he lost Theodosius' favor and was executed; his father Tatianus was spared and rehabilitated in 396, and it is likely that at that moment, the damnatio memoriae was revoked.
The text of the inscription:
DIFFICILIS QVONDAM, DOMINIS PARERE SERENIS
IVSSVS ET EXTINCTIS PALMAM PORTARE TYRANNIS.
OMNIA THEODOSIO CEDVNT SVBOLIQVE PERENNI.
TER DENIS SIC VICTVS EGO DOMITVSQVE DIEBVS.
IUDICE SVB PROCVLO SU
PERA
S ELATVS AD AVRAS.
(
more...
)
Once it was difficult to conquer me, but I was ordered to obey mild masters and to carry the subdued tyrants' palm. Everything cedes to Theodosius and his eternal descendants. Thus conquered I was tamed in thrice ten days. When Proclus was praefectus urbi, I was erected to the skies.
Literature
L. Safran, "Points of View: the Theodosian Obelisk Base in Context", in:

Greek, Roman, and Byzantine Studies

34 (1993) 409-435