Apadana, North Stairs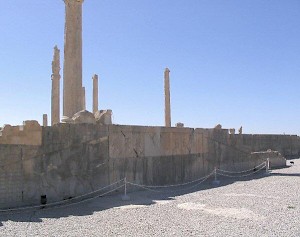 The northern stairs of the Apadana at Persepolis are hard to date. They may belong to the original design by king Darius I the Great (r.521-486), but it seems more likely that they were built after his son and successor Xerxes (r.486-465) had ordered the building of the Gate of All Nations. This was the official access to the terrace, and from here, the easiest entrance of the Apadana were its northern stairs.
Compared to the eastern stairs, the reliefs are of a rather poor quality. The bales of wool that the Yauna carry on the eastern relief, were not understood by the sculptors of its northern counterpart, where the Yauna are carrying some kind of globe. The theme, however, is the same: people are bringing tribute to the great king. Many courtiers are shown, like the Persians and Medes on the pictures below.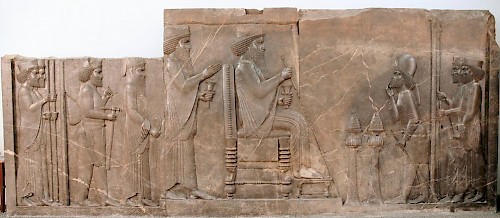 The central part of the decoration of the northern stairs consisted of the famous relief of king Darius, three courtiers, four guardsmen, and the mayor of the palace, Pharnaces. In a more abstract sense, it represents the rulers, the courtiers, and the ruled ones (represented by the mayor of the palace). At some point in Antiquity, this relief was removed and buried in the Treasury. It is not known why. Today, it is one of the highlights of the Archaeological museum in Tehran.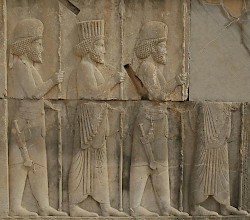 The original audience scene, which was perfectly preserved because it had been buried, was replaced by another relief showing eight guardsmen; the photo to the right shows three of them. An inscription (XPb) was included in the center of the relief.
We can also recognize the motif of the fight between the lion and the bull, which is well-known. Its deeper significance is not really understood. It is sometimes said that it stands for the eternal cosmological struggle, but there is some reasonable doubt, because the stuggle is clearly won by the lion. The artist has seen that the lion always leaps to the lower part of an animal's back and will remain hanging over there until his prey is tired. It is only then that the lion kills its victim. So, the lion on the Persepolis reliefs has won its fight, which is an argument against the theory that this relief represents a struggle that is eternal.
| | | | | | | | | | |
| --- | --- | --- | --- | --- | --- | --- | --- | --- | --- |
| Medes | Elamites | Parthians | Arians | Egyptians | Bactrians | Sagartians | Thracians | | |
| | Armenians | Babylonians | Syrians | Sacae | Gandarans | Sogdians | Arabs | Carians | |
| | | Lydians | Cappadocians | Greeks | Arachosians | Indians | Lion/Bull | Libyans | Nubians |